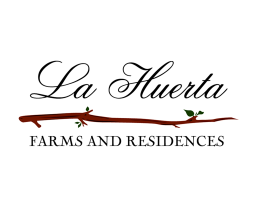 La Huerta is a 50-hectare development in Calamba, Laguna that emphasizes the benefits of enjoying a full and healthy lifestyle right in one's farm estate. At La Huerta, farming is more than a weekend hobby; it's an integral part of the family's healthy lifestyle. La Huerta has 4 specially designed clusters named La Lluvia, El Cielo, La Luna and El Sol, each featuring edible landscaping that feeds the body and inspires the soul.
NEAREST ESTABLISHMENT
Asian Computer College
Tagaytay Highlands
CPIP
TOTAL LAND AREA
Total Land Area - 50 hectares           
Average Lot Area – 750 sq.m.
EL SOL
"The Sun" inspires this cluster. The farm lots teem with plants and trees that have been carefully selected for their medicinal and therapeutic benefits, as well as for their aesthetic appeal. The main road is lined with Banaba trees, valued for their efficacy in helping to control diabetes; they also bloom beautifully and paint the landscape with pink to lavender hues. The other roads feature Lagundi trees, whose leaves are proven to cure cough, and several other plants that are considered anti-oxidants.
LA LUNA
"The Moon" is mysterious and romantic, alive with aroma of coffee and cacao, of bignay and other fruit wines. These crops are grown year-round, with their round canopies a relaxing sight along the roads. Residents who want to grow and process their own wine or coffee can obtain the proper training and technology from La Huerta's resident wine experts.
 
EL CIELO
"The Sky" is unique in that it is home to the largest bird in the world, the ostrich, which feeds on vegetables and other edible plants. This cluster houses the ostrich farms as well as rows of organic vegetable and herb gardens, and pili nut farms. In this lush natural setting, aficionados of healthy diets can produce and whip up their culinary masterpieces right in their own gardens.
LA LLUVIA
"The Rain" waters the palms and flowering plants in this cluster, which has preserved the site of a thriving plant nursery. Various ornamental palms such as Madagascar and Lastillana blue and red palm, fan and Hawaiian, from seedlings to fully mature stages, surround the area and create a fresh, tropical ambience.
Price Range:
₱ 4,700,000 - 6,800,000
Landscaped garden and promenades
Property perimeter wall for security and privacy
Centralized, interrelated water system with overhead water tank and deep well
Wide concrete roads for driving ease
Underground storm drainage system
Children's playground and family picnic grove
Multi-purpose clubhouse with swimming pool
La Huerta Farms and Residences
South Pacific Golf And Leisure Estates